A weekend in the Basque country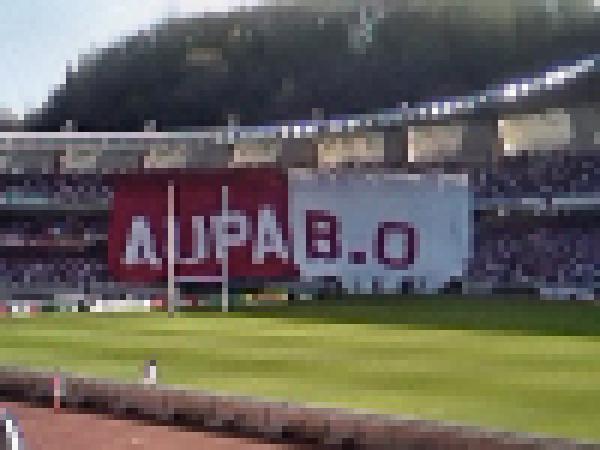 By snaderson
April 17 2006
Despite the result, everyone who went agrees that the weekend spent in the Basque country was one of the best ever. For those who couldn't make it, snaderson gives us a description of of his party's weekend and sums up the experience of all who did go - fabulous area, fabulous fans.
Les Requins d'Avril
Saturday 1st April
Pete silently raised an eyebrow as I pulled into the outside lane of the M11, while Jill calmly pointed out that the junction we were zooming past was the one for the airport. I had a short think about swerving across the road...and then pressed on to the next junction. If that was the worst mistake I made over the weekend, I thought in an attempt to calm myself down, I would count myself lucky.
One thing that did go right was our early arrival – it would have been even earlier but for the 20 mile detour – as the check-in desk was already open. Checking-in early guaranteed us a position at the front of the queue in the free-for-all for seats on the plane. We were thankful for this advantage when the plane became chock full and it started to look like Ryanair had overbooked. Somehow everyone was crammed in and, after the cabin crew had had a few goes at shutting the door properly (though not, I should point out, because the plane was too full), we headed south.
While we flew along the French Atlantic coast, Jill plotted our course on the map on Pete's PDA. The Gironde estuary near Bordeaux below us was an unmistakable landmark for checking where we were. We turned out to sea to make our final approach, following the yellow brick road cast by the setting sun, then started descending over the seemingly static water towards land. We passed low over the coast, flying above terracotta-roofed houses – almost every one of which had a swimming pool – before coming rapidly back to earth.
Not having any luggage in the hold, we were soon out of the airport and into a taxi to town. In an echo of our Limerick experience, the driver had a rugby banner in the back window and eagerly engaged us in some banter about the match. 'Qui va gagner?' I asked. 'Les meilleurs,' he answered diplomatically, if leadingly. We laughed, 'Ah, les Sharks!' In no time at all we were at the hotel – a bright pink concrete lump amidst lots of other brightly coloured apartment blocks – where we dumped our bags in the rooms (clean, comfortable, nothing broken) and, with time getting on, rushed out into the centre of town.
The taxi driver had given us a leaflet listing the rugby 'circuit des supporters' and we strolled through the backstreets to one of the bars on the list near the casino, a place called les Colonnes. It was crowded and covered in posters advertising the match and encouraging 'B.O.', the name by which Biarritz rugby club is invariably known. I squeezed through the crush of girls drinking champagne at the bar to grab some 'pressions', then we leant against a high table to watch the mix of people coming in and out. There was a chap in a beret, kids running under the tables and amongst our legs, a table of Sale fans outside and a few blokes in USAP (Perpignan) gear. One particularly merry one of these wielded a red and yellow (or 'sang et or') Catalan flag which he kept draping over anyone who came near him. As we looked on from under a huge inflatable shark, he came over and loudly proclaimed that although his team had lost (to Munster – we know all about that) he was still proud of them and proud to be in the Basque country, because the Basques weren't French either.
We moved on to the Place Clemenceau, which was something of a building site, and Jill directed us, perhaps unwisely, to a pub dubiously named les Queens. It turned out to be doing karaoke (Johnny Halliday a speciality) but we sat outside trying to ignore it and waving at passing Saleians. In the warm air of the street, the smell of briny ozone and cooking fish told us that, even if it was dark, we could be nowhere else but at the coast.
Continuing down the road we eventually came to the Café Leffe, ex-French prop Pascal Ondarts' bar. Out in the dark we could hear waves breaking over rocks but rather than indulging in any 'night swimming', we chose to go into the bar instead. There were lots of Sharkies in the bar – a colourful modern place – singing and chanting out on the terrace. We grabbed some Basque Eki beer, except for Jill who stuck to wine, and discovered that we could get food late. This secured us some seats inside, even if they were at the back by the toilets. The location had one thing in its favour in that we met just about every Sale fan in the place at one time or another – the effects of enjoying themselves inevitably drawing them down to that end of the bar.
It was perhaps around midnight when we started heading back to the hotel but at the Place Ste-Eugénie we saw an inviting-looking bar (possibly the Ventilo) and called in for another drink. There were a few BO fans in and the barman obligingly put on some club songs ('Aupa, aupa-aupa-BO' would soon become very familiar). Another group of Sale fans came in too and enjoyed a bit of banter with the locals, who were invariably modest about their chances. One of them was a Harpo Marx wannabe and used his horn to honk when he wanted a beer…or just when he fancied making some more noise. The bar was open to the streets and we watched the mopeds and skateboarding teenage girls passing by. We left late, although there had been no sign of the bar closing, and were back at the hotel by something like 1:30am.
Sunday 2nd April
In the hotel reception we had a discussion about our route to San Sebastian – which combination of taxi, bus and train would be best. Having decided on a bus, we got outside, chatted some more with CheadleEnder and the Riggers, and got a taxi. We took it as far as Biarritz station and the sight as we pulled in was something to behold: throngs of people were dressed head to toe in red and white. A common choice was white trousers with a red scarf at the waist, a white shirt, a red neckerchief and a red beret, and it was only then that I made the connection with the bull runners in Pamplona, another Basque city. It certainly made for an easy way to show your support for the team without having to spend your cash on official jerseys and dodgy merchandise. Many people had accessorised with spectacular hairdos, hats and face-paint, and one or two carried drums.
At the ticket office a friendly lad with tattoos and a trim beard helpfully talked us through our ticketing arrangement – open-ended and using the Euskotren on the Spanish side of the border – and the only tip he asked for was to have one of our tickets. We laughed and moved on in case he was serious.
The platform filled up and when we squeezed on the train it was jam packed. We shared the journey in the pleasant company of young Daggers (well, that was the name on the back of her shirt) and her folks. The gently rolling agricultural scenery passed by, along with the odd lazy-looking town. In one of these a square was full of pollarded trees that looked like strange alien fossils or some minimalist conceptual art. Daggers put her finger on it, inspired perhaps by her growling stomach: 'They look like Twiglets.' Pondering on the source of these party snacks, the rest of the similarly hacked-back trees became known as 'Twiglet Trees'.
At Hendaye we detrained, shuffled across the carpark and filed onto the narrow platform of the Euskotren station. A tram-like vehicle turned up and we crammed ourselves in, us and the Daggers clan surrounded by the red and white hordes. More piled onto the train over the border in Irún and the heat of the bright sunny day began to build inside the carriage. A smart, chunky, bald bloke hanging on next to me in the aisle, whose suffering from the heat made itself evident to my nose (taking 'Allez BO' to extreme lengths), attempted to haul one of the windows open but failed. His wife, who was sitting down, leant over and yanked it open with ease, and to general cheering.
At last we pulled into the station at the centre of San Sebastian (or Donostia…or Amara, which was the name of the stop) and the packed masses of brightly-dressed fans burst onto the platform like some sort of huge party popper. The throng failed to disperse when we got outside the station as there was another throng waiting amidst the Twiglet trees in the square. We joined the stream flowing up the road, hoping to be heading somewhere sensible, and found ourselves at the seafront. Old houses faced the bay and green woody hills poked up from headlands on either side. On the prom a long line of tiny ballet dancers went through their paces, using the sea rails as a barre. A classical response to IndepenDance, perhaps, but these were even younger. We moved on, always keeping an eye out for a likely looking place for a drink. Our Sale shirts attracted a lot of attention and we found ourselves stopping frequently to shake hands and to exchange wishes of 'good match' and 'bon chance'.
Eventually we came to rest at a bar on a square at the edge of the Old Town's narrow grid of streets and sat down to take it all in. Masses of people strolled through the square waving flags and listening to the pan pipes coming from somewhere amongst the crowd. A flat-bed truck, blasting out BO songs and peopled by flag-waving men in Indian headdresses, slowly cruised by. A seemingly endless stream of people poured into the Old Town. The sun beat down on us and I was glad of the sun cream I'd brought. A fellow baldy Sale fan was glad too when we let him borrow our supplies. We drank beer in small glasses and Jill fetched an assortment of tapas (or pintxos in Basque) from the bar, which were tasty enough if rather messy to eat.
We escaped the sun and followed the crowds into the Old Town to find ourselves towered over by tall shuttered buildings and surrounded on either side by bar after bar. After strolling a little while we randomly chose a bar and stood on the street outside it drinking. Some Sale fans were drinking nearby and occasionally small swarms of our blue-clad fellows buzzed by chanting out the traditional battle cry of 'Say-ul, Say-ul'. A chap with a collecting tin (though it didn't say who he was collecting for) passed and gave us 'Allez BO' stickers to put on our Sale tops. We moved on to a couple of other bars, and shook hands and kissed innumerable BO fans, having our pictures taken and wishing each other well. In a shady square we grabbed some chicken and pimento butties and took the weight off our feet, resting on a snaking brown and yellow tiled bench. Very Spanish style seating, we thought.
After checking out the buses to the stadium we called in for a last town-centre beer (indeed the bar shut after we had got our one beer down). A large, rather boozy, BO fan sang 'Swing Low' to us, chatted brokenly about the match, hugged and kissed us and patted me rather ungently on the back of the head. I grinned as the stars floated before my eyes. He joined us on the bus too and enthusiastically led the singing and chanting. We didn't escape his clutches while we were leaving the bus either and received more hugs and kisses. As he bounded off he walked straight into the clear plastic wall of the bus shelter, catching his nose and mouth with a loud bang. I hope he would forgive us for laughing. I'm sure he never felt a thing.
The supporters near the bus stop spilled over the pavements out of the many bars and beyond the crowds we saw the stadium, something of a concrete monstrosity with its geometrical modernist buttresses, rising up in front of a low tree-lined slope. We chose a bar with a few Saleians outside and sat for a while baking in the sun. The BO fans came over to chat and I very nearly swapped my hat, only the chap had already swapped his and his 'girl', who had another, was elsewhere. It soon became too hot in the sun – for Jill and me at least – so we wandered into a nearby square in the shelter of some apartment blocks and sat on the long benches there. 'Drinking in a council estate,' Pete called it. The sun slowly sank and we shuffled along the bench so Pete could stay in its light. Young lads selling programmes wandered past. A pair of dark skinned Latin Americans – possibly the ones who had been playing the pan pipes – sat across the square and drank from huge bottles of San Miguel. A bloke took a leak in an apartment entrance, rather than queuing up in a bar, and walked off with wet feet. On the balconies above us, old women leaned on the railings to watch the red and white hordes singing.
The time passed quickly and we were soon thinking about getting into the ground. After an attempt to enter the wrong stand, we did almost a complete circuit, negotiating the people supplying 'ttun-ttuns' or thundersticks – short, sausage-shaped balloons banged together to make a noise – until we finally found our correct entrance. While queuing at the bar on the concourse I bumped into Fluffy Shark, in his titular titfer ('it's too hot for this thing,' he puffed), and he pointed out that the place was alcohol-free and they were only selling Kaliber. It's not a drink worth queuing up for so we went to find our seats instead. They were in a little enclave of Sale fans (who, thanks to the message board, were expecting to see me) on the east side and were in the full glare of the sun. We hastily applied more sun cream, except for Pete, who seemed to think he was born in Calabria to Sardinian parents rather than in Cumbria to Mackems. The stadium was much nicer inside, the stands forming a gently undulating wave around us and the grass within the athletics track looking green and healthy. The boys were warming up on the field (they wouldn't have needed much warming) so we let off a couple of Say-uls before they retired to their changing room. The truck that had been blasting out Aupa-BO songs round town did a circuit of the running track and a gigantic Aupa-BO flag was draped over the south stand (unfortunately it tore as they were trying to get it down at kick off).
The match passed by in a sweaty-eyed blur. It was like two immovable objects meeting…slowly. One huge defence lumbered against another, grinding each other into stasis. The slow build up in Sale's attack kept faltering with a penalty or a turnover, and a few lame kicks were rightly punished. The referee didn't like our boys' scrummaging, amongst other odd decisions, but we were lucky not to lose Larrechea (a Bayonne boy who was given a, ahem, warm welcome) for blocking a BO player and Lobbe for a late tackle. After a number of goes, one of Sireli Bobo's blazing runs finally took him past the Sale defence to touch down for a try and give them an unwelcome lead.
At half time Jill and I retreated to the cool concourse under the stand to ease our dizzy heads. At 11 – 3 down we thought there was still a chance, though it was hard to see where it would come from. We were lucky that Yachvili was uncharacteristically off-target with his kicking and so the lead was less than it might have been. We had to hope that the boys would turn it round. Having recovered a little we returned to our seats where one of our female neighbours had come back with a clutch of drinks. 'I've been hugged, kissed and groped,' she said with a big grin, 'but I didn't pay for these drinks.'
In the second half there were some promising breaks from Stanley and Courrent, but still no decisive score. Sale looked to have neutralised the BO attack but couldn't find a way through themselves and were constantly driven back by an impressive, aggressive (and possibly borderline illegal) Biarritz defence. Harinordoquy looked like getting another BO try with a break down the left wing (it was quite a sight to see him doing a shimmy and a side-step) but an immense covering tackle by Charlie saved our blushes. There were two clocks showing the time played, one on each of the two big screens at either end of the ground. As the game was drawing to an end, the clocks disagreed with each other, until the one that offered Sale the most time for a comeback suddenly leapt forwards to match the other. The contest was over all at once. In the end it was Bobo's astonishing pace that had made the difference, and his was the only try of the match, a meagre three points for Sale being the only score of the second half. The BO fans, who had been very vocal during the game, went absolutely wild. We stood and clapped, then clapped and cheered some more as our boys wandered over to wave at our side of the stand.
The BO fans looked like they were installed for the night, so we dashed out to the bar at the Hotel Anoeta to beat the queues. Sitting on the terrace we congratulated, and were commiserated by, many generous and unstintingly friendly fans who showed humility despite their very obvious joy. A few commented that it hadn't been a good match; however, I thought it had been a tremendously tense affair, and also that you wouldn't feel disappointed at that type of game if you watched a lot of Guinness Premiership matches – the championship of defences.
We calculated our journey times home and, while it was also getting cold, we decided to leave, not forgetting to pick up a couple of Heineken carry-outs to see us through the journey. There was a mass of fans at the Euskotren station by the stadium and we funnelled our way down onto the platform and into the train with them. At Hendaye we found ourselves amongst the first onto the SNCF train and so we grabbed the plush reclining chairs before anyone else got on board. It soon filled up with singing BO fans, accompanied by a thankfully fairly restrained drummer. Back at Biarritz only a few of us got off and we were the only ones looking for a taxi at the empty rank. The group of Biarrots who had got off with us paused and asked if we needed any help before very kindly calling us a cab then wishing us good luck and disappearing into the night.
Having been warned that everywhere shuts in France on Sunday, we returned to the quiet of the hotel where the receptionist uncomplainingly opened up the bar for us to have a last drink or two. While we sat there a few other Sale fans came back in to tell us that town was going crazy and all the bars were rammed. Oh well, there's only so much commiserating you can take. And Jill was getting scrum pox from all the stubbly kisses she was receiving. Even if the disappointment at the result of the match wasn't anything like that at Limerick, it still felt like victory had been a possibility but that it had been held tantalisingly out of reach. It had been ours for the taking, but we couldn't quite manage it.
Monday 3rd April
We dumped our bags at the hotel in the morning and wandered off into town to pass the time until our flight back. Something we hadn't factored into our planning was the way shops in France generally shut on Mondays. Serge Blanco's trendy Quinze rugby shop was shut up so we called into the little shop-cum-café (le Passage) next door for breakfast. It was a jolly and 'gay' place with shelves covered in colourful oddities like shoes, gloves, handbags and parasols adorned with large crepe flowers. Our host, Eric, brought us coffees, deliciously fresh bread and amazing homemade jam – a thin marmalade of clementines, a honey-like orange jam and an unusual chutneyish pineapple and vanilla one. A big friendly Dalmatian, presumably belonging to the place, wandered over to our table, but didn't seem much taken by our breakfast and wandered off again.
We chatted with some Sale fans outside then dropped down to the sea front to watch some surfers in the big waves rolling in over the pale turquoise sea. We wandered up onto a rocky headland to watch the waves crash over, around and even through the slanting rocks just off the shore. It was like a classier, smaller scale Llandudno (if there could be such a thing as a classier version of Llandudno). We carried on past the harbour, with its pricey though tempting seafood restaurants, and the Musée de la Mer (outside which was a sign for 'le grand requin blanc', though I failed to see Tam anywhere near) and out to the Rocher de la Vierge, an even more isolated headland topped by a statue of the BVM. To the south, low cliffs, washed by the waves and soft-focussed by the sea haze, stretched out towards Spain. It was sunny but not as powerfully so as Sunday and out on the tip of the land it was getting a little cool. Jill asked what country you would reach first if you headed due east. Pete and I debated states in America before realising what she had said and answering 'France'. Correcting herself, she suggested Florida; I went for Newfoundland, Pete for somewhere in New England. It turned out to be Spain. Of course.
We left the Rocher and, following the coast, we came to the old port, a deep, narrow cove with a twenties-style café nestling part way down the cliff. A cut-out Betty Grable-style starlet displayed the menu and I could just imagine old-style Hollywood types lounging outside drinking cocktails on the terrace. The rest of the town looked either more modern than that – lots of white apartment blocks stacked like packs of cards half knocked over – or older, in a half-timbered or classically French way.
At the top of the cove was Pascal Ondarts' so we called in for a last drink (finally I got a pastis) and some lunch (an ugly, grumpy-looking fish that turned out to be a hake). The Riggers, Moonbeam, Pink Lady and CheadleEnder came in with another tale of woe. After having their flight out to Spain cancelled and spending the night at Stansted, their flight back had been cancelled too. Luckily they had managed to secure places on our flight from Biarritz, hence their reappearance in France. Nevertheless, they had just had a 250 mile round trip to Santander for nothing. It doesn't bear thinking about.
We slowly made our way back to the hotel and took a taxi to the airport. Our driver, who didn't seem to have a lot of English, grinningly put on a CD of BO songs – including the ever-popular 'Aupa, aupa-aupa-BO' one – to see us off properly. In the airport gift shop, Jill and I picked up red Basque neckerchiefs and wore them proudly with our Sale tops. We bustled through check-in to find that the far side of security had almost no facilities, unless you count a Haribo sweetie machine and an expensive Coke dispenser. We settled down to read, sleep and wait. It wasn't a busy airport and the only flight we got to see land was our own plane. The bookings seemed to have worked out better for the return flight and when we boarded everyone was seated in good time. The Riggers turned the trip into a Fun Bus in the sky with copious amounts of alcohol slopping around, and soon we were landing back on English soil. The temperature outside was something of a shock as we stepped out onto the runway and we were quickly pulling out coats and jumpers – or lurid Basque ponchos in Pink Lady and CheadleEnder's cases.
We waved goodbye and headed off into the night with another defeat and another fantastic weekend – made once again by the kindness and friendliness of the locals – behind us. Out of the Heineken Cup, but not down, not by a long way.