Northants Sale report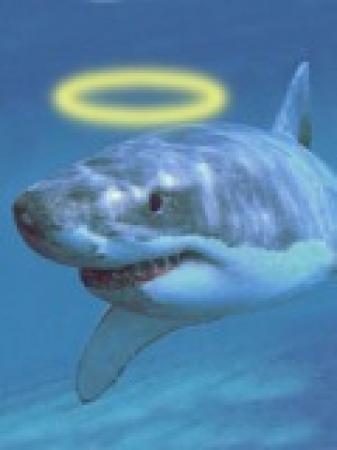 By Whaley Shark
May 8 2006
Twenty-one games gone, top spot assured: our play opponents would be decided elsewhere. And so to Northampton, the last game of the regular season, with nothing to gain for either team. The Whaley Shark went to watch a match without a purpose…
Rule one for any budding rugby journalist is "Don't get your notebook wet by standing in the rain"; rule two is "Don't get a terrace ticket because you'll have nothing to lean on even if your notebook hasn't turned into paper maché". So, standing in the rain on the Franklin's Gardens terrace with a handful of woodpulp, I am in deep do-do and bitterly regretting offering a report to the Major. There's only one thing for it- Impressionism, all the rage on the telly and "a style concerned with expression of feeling rather than accurate depiction" according to my dictionary. So here goes with a Monet-style match report.
It's certainly an interesting Sale line-up. The Saints fans around us are glad we haven't short-changed them by putting out a weak side, but we have shuffled the backs and gone for a supersonic back five- Ben Foden gets a start at scrum half with Jason at full back, Ripol and Stan on the wings, and Mayor and Cuets in the centre. The match starts with a long period of Sale pressure, played almost entirely in the Saints' half. Saints keep Sale out, but concede several penalties, which Charlie kicks to the corners. Somehow or other Sale don't score for the first 20 minutes but then Nacho is driven over and Northampton's resistance seems to have cracked. Ben Foden breaks away and scores a classic scrum half's try, before Jason slides through the defence on the left, draws the last defender and feeds Steve Hanley, who canters over in front of the Sale supporters celebrating "Big Tam Day". Northampton have no answers at this point- their lineout is struggling, their scrum is going backwards and their forwards' body language says "Oh no, not again" at every set piece. A rather unkind man in a Sale shirt keeps shouting "Are you the Wallabies in disguise?".
Valentin Courrent comes on for Charlie at half time and wastes little time in getting on the score sheet to secure the 4-try bonus point. Sale are now 26-3 ahead and in control, but their rhythm is disrupted by a series of substitutions and Saints come back. Their forwards get a grip and their backs start to play – Spencer showing flashes of genius which, thankfully, sometimes confuse his teammates as much as the defenders, and Reihana running hard and direct. Northampton score four tries, including three in six minutes, to take the lead, 27-26, with 70 minutes gone. Sale rally though, and Oriol Ripol beats three defenders to score. With the conversion and a late penalty, Sale lead 36-27. Saints aren't finished yet, though. They put the overlapping Ben Cohen away down the left. The cover just gets across, Cohen stops five metres short, zigzags infield and cuts through a gap to touch down. With the conversion, Sale lead by just two points, 36-34. Right at the death, Saints have a kickable penalty to win the game, but Reihana scuffs the kick and it falls short.
So, match without a purpose, my a**e. Both teams really wanted the win and went for it with Barbarian-style rugby. Ten tries, some really sparkling play from both sides and an excellent performance by Ben Foden, my man of the match, made it a fantastic day out. As for Franklin's Gardens, it's a cracking venue with a great atmosphere, and I'd really like to thank the Saints fans near us for the chat and banter. Just one final question, though, did we really make poor Richard Wigglesworth replace a prop for the last few minutes?????