Sale v Leicester GP Final Preview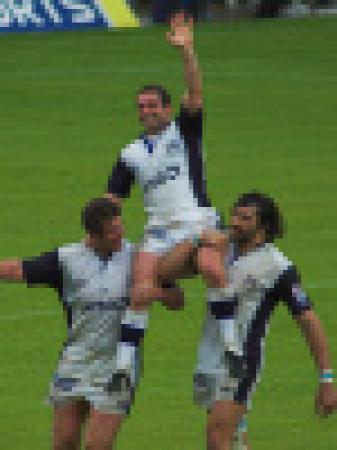 By Angel Shark & Lanky Lancastrian
May 24 2006
Fourth time at HQ, third time against Tigers. By way of a preview, we look back at the last meeting two years ago as well as examine the match-up between the (probable) squads for this weekend. Angel Shark and Lanky Lancastrian switch on the wobbly video SFX... (OoEe-OoEe-OoEe-OoEe)
By Auntie Angel Shark
Well, we're off to Twickers again! Again, it's sounds like we're there every week. I've been looking forward to a return visit since my first and only one on 29th May 2004 (my memory isn't that good – I have the ticket stub in front of me). My Dad has just sent ma a text to ask what the final score was on Sunday so I replied, including the fact we were off to Twickers. His reply was "Jolly good old boy!" Must take a picnic and some Bolly for the traddy car park Twicknic. If only things like that were still possible…
Way Back When…
We started off from home early in the am and breakfasted at the Sandbach truck stop. We know how to live, don'tcha know! Tricky and I were in Big Simon's car, with Hippy, Valley Shark and Freebie in Scuba's. I will foreshorten the story of the journey by saying it isn't big and it isn't clever to try and pass a Tupperware box of pork pies between two cars… doing about 80 miles an hour on the motorway. Naughty, naughty boys! We checked in at the St Giles in Feltham (we're coming back again!) then got the train to Twickenham. Settling ourselves into a local tavern, The Moon Under Water, our little band soon grew as more and more people arrived. We set off for the ground and on arrival tried to find a decent drink. When you're a fussy real ale beer-with-lumps in drinker HQ is a desert.
We sat on row 67, on a level slightly higher than the pigeons in the rafters. Vertigo? Hitchcock didn't know the meaning of the word. Looking back at the photos (didn't realise I still had them until recently) I can see we were with many people who are now very familiar to us – H's Dad and the Bugle Boy, The Family Strinesian, Taffy Shark, Kentish. I don't remember too much of the game – I can assure you that on HQ prices I wasn't drunk – it's just that we were so far away the players seemed more like ants than Sharks, and BOY was it dull. I do though remember Sharky's naughty performance in the Mascot's Game, when he got yellow carded, then pushed the ref over another mascot earning himself a red. He then managed to knock off another mascot's head, which he placed on the corner flag down below us. As the flag pole sloooowly bent downward under the weight of the head, the fans were rolling with laughter in their seats. Come the second half, I went in search of liquid refreshment. I couldn't even get a pint of squirty keg bitter at any of the bars on our level. Time to depart…
After the game we walked back into Twickenham. Well, everybody else walked, I hobbled as a couple of days before I'd had an in-growing toenail dealt with. Ouch! We were joined by Phil Davies' Mum and Dad and had a great chat and a drink together back at the Moon Under Water. From here we joined the throngs of people heading for Richmond on the train. I recall at some point Freebie's camera biting the dust but don't remember how. The queue for the trains was well supervised and they were frequent and quick. From the station we went to the White Cross pub where we saw the aftermath of a naked swim across the Thames. The unclothed chappie was climbing onto a boat on the far bank, waving at his mates on our side. And before you ask he was waving in the normal manner, with his HAND!! The pub was packed inside and out and we spent ages there, some of our party finding the locals very friendly. We eventually listened to our stomachs and set off to find somewhere to eat. We ended up in a Mexican restaurant and from what I remember it was very good. Eventually we got a taxi back to the hotel. Rip van Winkle was in the front/paying seat and as usual fell asleep. I think the driver's concentration was impaired at times by Rip's thunderous snoring.
It was a brilliant weekend and I'm hoping that the forthcoming one will be equally as fun, filled with more beer and noise and topped off with a lovely piece of silverware.
By Lanky Lancastrian
As a warm-up for Saturday's game (and because I can't sleep at the moment), I thought I'd do a preview of Saturday's game by looking back two years (minus 2 days!) and comparing it to the 2006 vintage. This was the last time we played the Tigers under the sunny skies of TW1. In fact, the South Stand is liable to be about the only thing of note to have changed at HQ since as we are again overseen by the ever incomprehensible Mr Spreadbury.
Since then in league encounters, we've ground out two wins at home, a draw we should have won away and got stuffed by a buoyant Tigers who have just battered Leinster and we still had a Galway hangover!
The score at Twickenham two years ago (29/5/04) was 48-27 to Leicester infront of an estimated 30,000 people in the 'Wildcard Final.' Our tries that day came from Hanley, Benton, Robinson and Sheridan with a couple of penalties and three conversions from Charlie. Leicester went over Back (2), Lloyd (2), Gibson, Healy, three Goode conversion and four drop goals! It was pretty grim viewing and there must have only been 1,000 or so Sale fans in the ground. Thanks though must go to Riggers for keeping me awake and keeping the Haribo toffees passed round!
So what about our team now and then and put simply, how much better are we (obviously the team for Saturday is only predicted!!)???
Sale Sharks:
Jason Robinson (capt), (same – still got the spark as shown by the SF)
Mark Cueto, (same – developed into one of the best finishers in Europe)
Chris Mayor, (Taylor – slight improvement although rarely passes)
Chris Rhys-Jones, (Elvis – big improvement)
Steve Hanley, (Ripol – still raw but against the best finisher in our history?)
Charlie Hodgson, (unchanged – set aside demons and can dictate the game)
Richard Wigglesworth, (Martens)
Barry Stewart, (unchanged – solid and dependable as ever)
Andy Titterrell, (Bruno – rotated regularly but a great presence in the loose)
Stuart Turner, (unchanged – solid and dependable as ever)
Chris Day, (Lobbe – excellent player – needs to keep temper in check)
Dean Schofield, (Jones – again, regaining form that got him capped)
Hugh Perrett, (White – biggest improvement across all 30 players – an immense player for Sale this season)
Magnus Lund, (unchanged – pushing for England and fully deserved)
Chris Jones (Chabal – talismanic figure, just ask Dayglo and Shaw!! – big improvement)
Coach (Mallinder – St. Andre – has brought French flair and class to the club and along with Kingsley, have certainly taken us up a couple of levels)
Leicester Tigers
Darren Morris (Rowntree – solid and dependable as ever)
George Chuter (unchanged – good but lineout can be suspect)
Julian White (unchanged – still as solid as ever)
Martin Johnson (capt) (Ben Kay – good but not as talismanic)
Louis Deacon (unchanged – mysteriously back from his ban in time!)
Martin Corry (Jennings – lot of raw talent and ability)
Neil Back (Moody – superb at restarts but not nearly as cunning as Back and gives away lots of penalities)
Will Johnson (Corry – more solid presence at no. 8)
Harry Ellis (unchanged – developed and excellent around the fringes)
Andy Goode (unchanged – can still )
Austin Healey (Varndell – major improvement – pace to burn!)
Daryl Gibson (unchanged)
Leon Lloyd (Smith)
Ollie Smith (Tuiliagi)
Geordan Murphy (unchanged – still as consistent)
HEAD TO HEAD
Jason Robinson v
Geordan Murphy
Both good under the high ball - DRAW
Mark Cueto v
Alesana Tuilagi
Two very different players but both equally as effective - DRAW
Mark Taylor v
Ollie Smith
Taylor better defensively but Smith running cutting lines - DRAW
Elvis Seveali'i v
Daryl Gibson
Elvis on his day can cut up a defence but Gibson with the all-round game? – DRAW
Oriel Ripol v
Tom Varndell
Most exciting talent in England v rapid Spaniard - TIGERS
Charlie Hodgson v
Andy Goode
The key battle – both on top form - DRAW
Sililo Martens v
Harry Ellis
Martens often too slow – Ellis better round the fringe - TIGERS
Barry Stewart v
Julian White
White on his day could cause major problems - TIGERS
Sebastian Bruno v
George Chuter
Excellent fight but Bruno has the edge for all round game - SALE
Stuart Turner v
Graham Rowntree
Tight battle up front - DRAW
Ignacio Fernandez Lobbe v
Ben Kay
Kay is a key part of the Tigers lineout - TIGERS
Chris Jones v
Louis Deacon
Both on the England fringe and solid at the lineout - DRAW
Jason White v
Shane Jennings
White – player of the season - SALE
Magnus Lund v
Lewis Moody
Key spoilers but Moody gets caught out too often – SALE
Sebastian Chabal v
Martin Corry
The two talismanic figures but Chabal just - SALE
TOTALS – SALE 7 ½ - LEICESTER 6 ½
On that evidence it would appear to be the Sale pack vs the Leicester backs, a complete reversal of the tale of two years ago. Sale's pack squeezed the life out of Wasps while Tigers ensured that Irish got no ball to play with?? Sale are also a better side than 2 years ago with Chabal, Elvis and White as key additions. In comparison, Leicester have to replace the irreplaceable Johnson and Back although haven't done a bad job!
If you look at the two years history in the league, Sale have won 29 games and gained 134 points whereas Leicester have also win 29 games and gained 146 points.
In Europe, the Sharks have won the Challenge Cup and lost in glorious San Sebastian to beaten finalists Biarritz. The Tigers have lost a semi-final to the eventual winners Toulouse in 2005 and then lost to Bath in an epic Quarter Final this season.
So in summary…
Sale are clearly a better team than 2 years ago and have edged the four encounters since. Leicester will undoubtedly want to avenge last year's final defeat to Wasps and Sale will want to finally win at Twickenham at the fourth time of asking. Do Sale believe they can beat Leicester (quote – a Mr. S. Barnes!)?????
Prediction….
Sale by 3, Sale Sharks 21 – Leicester Tigers 18
(Tries from Chabal and Cueto and the rest kicked by Charlie with Leicester getting 2 tries, 1 from Varndell and one for Jennings with Goode kicking the rest)
Sale (again!) crowned Champions of England 2005-2006
Roll on 3pm Saturday ….