View from the south stand: Sale 39 USAP 10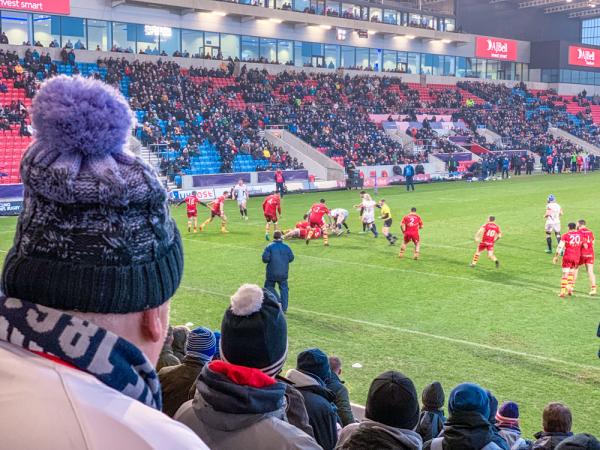 By Major Bloodnok
January 21 2019
Crimes against music—the bare facts—motivation against the mediocre—comparison with recent matches—realising potential—late season peculiarity
It's odd: whenever I arrive at the ground and go into the tent thingy, the act on stage will see that as cue to then murder some inoffensive song that I actually quite like. You know that feeling when you recognise the words, but you can't place the song because the tempo's wrong and the singer is taking an Eric Morecombe-esque approach to the notes of the melody? If you've got an acoustic guitar and a fairly deep voice, you don't perform bright, poppy, up-tempo electric songs like Mr. Brightside.
Or Postman Pat, for that matter.
There's a part of my brain that the rest of it has quarantined off, protected by guard dogs and razor wire. It contains the memory of hearing the Scissor Sisters' version of Comfortably Numb. I retain the memory of having heard it so that I don't accidentally wonder "what's in here?" and release the full horror of the actual memory onto my unsuspecting concious mind.
---
Enough prevaricating, I suppose I ought to talk about the rugby in what is, ostensibly, a match report.
*Ahem*. Sale won 39–10 with a bonus point, qualified as third seeds and will play Connacht (again) at home in the quarter finals.
---
Now, back to the subject of—
What?
More about the game?
*Sigh*. Look, it wasn't the greatest game ever, right? A bit lacklustre to be honest. Not a game to tell people "I was there". Not as bad as Bordeaux at home (at least we won), but not one to bring the punters back clamouring for more.
Remember a couple of weeks back, against Saracens, when, after eight minutes, they compressed the Sale defence, sent the ball wide left and Billy V scored a try?
Well, after four minutes, Perpignan compressed the Sale defence, sent the ball wide left and scored a try.
As against Saracens, Sale hit back fairly quickly with a couple of tries of their own and went on to win. The big difference, though, is that the Saracens game was exciting, edge-of the seat stuff, full of good rugby.
This game wasn't.
The bare facts are that Sale had more than seventy percent of possession and scored five tries to two. According to the Premiership app on my phone, neither side made any metres or tackles, so that was evenly balanced.
Ashton scored a try (of course) and made a couple of good runs from deep, Reed continues to impress and thoroughly deserved his well-taken try. Paolo replaced him shortly after half-time and also looked lively and strong in the tackle. Bulking up may have taken a yard off his pace, but it does seem to have given him the ability to drag tacklers along with him.
Denny was pretty anonymous. In fact, I barely registered his presence on the pitch for the first 50 minutes, what with a lack of any real impact and the scrum cap making it look as if one of the forwards had wandered out to the wing.
That's not completely fair on Denny – he did get involved in some rucks and put in a couple of good tackles, but nothing to warrant shouts of "Denny, Denny" as in recent games.
Speaking of forwards, Josh impressed from my vantage, and Philips is looking more an astute buy the more he plays. For the others, no-one failed to do their job and any failure to really shine is more down to the paucity of the opposition than to anything that they may or may not have done.
You can only play what's in front of you and, if that's poor, then you're unlikely to put in a stellar performance, for the simple reason that you're not being pushed to it.
That said, I'm a bit conflicted about young Kieran Wilkinson. All the smart observers rate him as a lad with tremendous potential, and I'm not going to gainsay their expertise. On the basis of this game, though, (and last week's apparently) it remains potential and not actual. Why that is is open to debate. Has he been thrown into the big time before he's ready? Is he not being given enough responsibility by the other players? Something else?
The lad's 19, I think he just needs time. Some people can cope (Luke James), for others, it's more difficult to step up to a higher level. Imposter syndrome perhaps? You know: when you have a hard time convincing yourself that you're good enough, even though others say you are. I know that, as a fan, I look at players like Faf and Ashy and think "why us? They could go anywhere – we're just a small town in Cheshire". Sometimes it's hard to convince yourself that you really are worth your place (or players).
OK, that's probably simplistic tosh. In the end, we have to trust that Dimes and the rest of the coaching staff know him well enough to do the right thing to help him realise his potential.
---
And now I'm struggling to find anything more to take from this game. It was a win at a canter. If the team didn't produce fireworks, it's really that the opposition didn't require them. It's hard to excel against mediocrity. I used to play in a ceilidh band: if the audience got up and danced with enthusiasm, we played brilliantly, if the audience just sat around at their tables, we played badly. Gloucester and Sarries danced the dance, Perpignan sat at their table, grumbling.
---
So, a week off then Newcastle in the Noddy cup and then we enter that stage of the season where we get one home game a month if were lucky. Just as the season's getting to the exciting bit, there's less rugby to go and watch. Weird.