View from the south stand: Sale 14 Exeter 20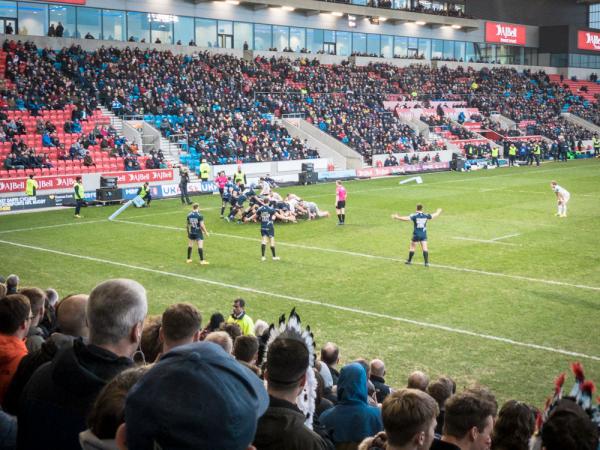 By Major Bloodnok
March 5 2019
Noises off—Portents, Omens, Premonitions—A promising start—Same old, same old—Back into it—Hopes squashed—A nasty collision—Disappointment
---
"Start with a bang" can be good advice to get a show on the road, sometimes.
The particular bang that started things off on Saturday came from the near side of the coach as it was manoeuvring out of The Brook car park. What is it with people who seem to think that the space alongside the long vehicle will continue to be a space once it's a bit further into its turn? Anyway, cue a five-minute delay for the swapping of details and we were back on course for what was likely to be a testing challenge against the current league leaders.
Last week's result boded well, but the previous week's was a less positive omen. Still, we had beaten Sarries, so Exeter was not a lost cause by any means.
There was a familiar face warbling away in the tent as we arrived: he stayed away from Mr Brightside and made a decent fist of the songs he did sing, so that was another positive.
On the other hand, Sale lined up for the first half attacking the south stand – a bad omen, since they seem to play well either attacking the north stand or in the second half. Attacking the north in the second half means that the first half is likely to be a struggle.
But, for the first half hour of the match, things seemed to be going well. Sale managed two excellent counter-rucks for turnovers and were holding their own in the scrums. Much of the possession and territory was Sale's and they made several good opportunities all of which (inevitably, really) came to nothing — either knocking on or, as in a 7th-minute chance, taking the wrong option. Kicking to the wing when a shorter kick or even keeping the ball in hand would have had as much chance of getting the score seemed – shall we say? – a rash option. (Yes, if it had come off, it would have been hailed as brilliant, but it didn't, so…)
And then came the first Exeter try. A pass that was, well, less of a pass than an aggressive drop gave Exeter the ball. A kick ahead, a chase by Cordero, a desperate last-ditch tackle and an opportunistic pick up by Devoto and the ball was on the ground in the end zone.
We then had about three hours of big-screen replays whilst the officials tried to determine whether or not the try should stand. For me, I thought at the first viewing that his knee was above the line when he touched down; a conclusion that the officials eventually concurred with. A great touchline conversion put Exeter 10–0 up on 30 minutes.
Seven minutes later they were 15–0 up and that's how we went in to half-time.
The first twenty minutes of the second half were fairly even, with no further addition to the score. Then, just as we were starting to think that we would be getting nothing out of this game, a bit of pressure on the Exeter line saw Sam James break through a tackle to score near the posts. With the conversion, the score was now 7–15 and we started to hope.
Those hopes were mostly dashed on 70 minutes as Exeter scored their third try in the corner to go 20–7 ahead.
Then, four minutes later, a bewildering series of short pop passes culminated in Horse bolting through a gap in the defence and feeding Wilf for an easy run in under the posts and bring Sale to within seven points at 14–20.
And that was it, really. No more scoring, but we did have a nasty incident when Wilf got a high-speed cranium to the face: it reminded me immediately of his horrific smashed eye socket of a few years back. Here's hoping he's OK. Oh, and to all the players who started a bust-up over the incident and were fighting where Wilf was lying sparked out: get a grip. Yes, you were incensed by it but don't let a testosterone rush take precedence over the well-being of your teammate.
So, a disappointing defeat, given that we left maybe three tries out there, butchered for various reasons, and could have had another six points if penalties had been kicked rather than sent to the corner.
If pushed, I'd have to say that we lost because of a lack of decisiveness. At times they looked as if they didn't quite know what the best thing to do was. In several of their periods of possession, Sale looked somewhat pedestrian (at least, to my eye). Not so much rabbit-in-headlights, but more of a "seeking a way through and not seeing one, so dithering a bit" fashion.
I'm not going to pin any blame for that on any one player since Exeter are an extremely well-drilled side, whose defence could probably be used in place of the Thames flood barrier. But we do need to learn how to force gaps in those sorts of defence if we're going to have pretensions at supping regularly at the top table. And for that, we need depth at 10. No criticism of Sam — he's a fabulous 13 — but he's not really a 10 and Kieran is, still, too young to be a realistic back-up to AJ.
I'm going to predict a finish between 5th and 8th and, if it's 8th, that'll be down almost entirely to the lack of a seasoned back-up to AJ at 10. The acquisition of Rob du Preez should address that issue.
---
And so to Leicester on Friday. We are ahead of them in the league on games won at the moment. After Friday, we need to be ahead of them by at least 3 points (preferably five) and be two wins ahead. They are as beatable as they've ever been and I expect us to go at them full tilt for a win.
Losing to Exeter was disappointing, losing to Leicester will be infuriating.